100 gr di riso Carnaroli | 1 scorfano di media grandezza (circa 400 gr) | pomodorini ciliegine | aglio | prezzemolo | pesci di zuppa e piccoli pesci della baia
Questo delizioso piatto nasce in questo ristorante ed è da sempre uno dei più richiesti dalla clientela.
Il punto di partenza per la sua realizzazione è certamente un buon riso: noi utilizziamo Carnaroli, riso italiano di alta qualità, che viene cotto col metodo "Pilaf".
Questa particolare cottura al forno con la casseruola coperta fa si che il riso si insapori e resti leggero.
Nel frattempo, lo scorfano viene cotto in "guazzetto", ossia con un composto di pomodorini, aglio e prezzemolo per circa 10 minuti, costantemente bagnato con "tumè": un saporito sugo di pesci da zuppa e piccoli pesci pescati con le paranze nella baia.
Il riso viene poi unito allo scorfano e costantemente bagnato col suo sugo di cottura. Un'ultima passata in forno e il piatto è pronto!
---
SCORPION FISH WITH RICE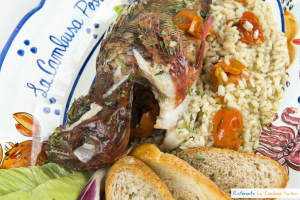 100 gr Carnaroli rice | medium-sized scorpion fish (about 400 gr) | cherry tomatoes | garlic  | parsley | fish soup and small fish in the bay
This delicious dish was born in this restaurant and it has always been one of the most requested by customers.
The starting point for the creation of the dish is certainly a good rice: use "Carnaroli" Italian high quality rice, which is cooked by the method "Pilaf".
This particular baking saucepan covered with will cause the rice insaporisca and remains lightweight.
Meanwhile, the scorpion fish is cooked in "stew", or with a mixture of tomatoes, garlic and parsley for 10 minutes, constantly wet with "Tume" a tasty sauce of fish soup and small fish caught with fishing boats in the bay .
The rice is then combined with redfish and constantly wet with her juice. A final cooked in the oven and the dish is ready!