Ciò che aggiunge prestigio ad un ristorante è certamente la selezione di vini messi a disposizione per gli ospiti.
A tal proposito, vi offriamo una vasta selezione delle più pregiate etichette nazionali ed internazionali: vini, spumanti e champagne in grado di enfatizzare ulteriormente il gusto di ogni nostro piatto.
La cantina è continuamente aggiornata, tenendo sempre conto dei gusti dei nostri clienti e dei consigli di esperti enologi, al fine di regalare un'esperienza gastronomica assolutamente insuperabile
Qui di seguito alcune delle case vinicole che utilizziamo:
Coppo
Frescobaldi
Cantina del Notaio
Feudi di San Gregorio
Ceretto
Jerman 
Montevetrano
Ornellaia
Sassicaia
Antinori 
Biondi Santi
La Scolca
Mastroberardino
Avignonesi 
Marisa Cuomo 
Casa D'ambra
---
What adds prestige to a restaurant is certainly the selection of wines made available for guests.
In this regard, we offer a wide selection of the finest national and international labels: wines, sparkling wines and champagne can further emphasize the taste of each our plate.
The cellar is continuously updated, always keeping in mind the tastes of our customers and expert advice winemakers, in order to give absolutely unsurpassed dining experience!
Below some of the wineries that we use: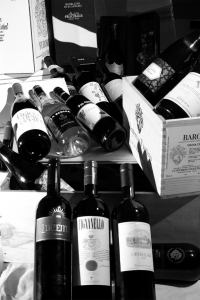 Coppo
Frescobaldi
Cantina del Notaio
Feudi di San Gregorio
Ceretto
Jerman 
Montevetrano
Ornellaia
Sassicaia
Antinori 
Biondi Santi
La Scolca
Mastroberardino
Avignonesi 
Marisa Cuomo 
Casa D'ambra